What are AR filters?
Augmented reality (AR) filters are computer-generated effects that are designed to be placed on real-life images. AR filters operate with your camera to add a layer of imagery to your image's foreground or background.
Since the introduction of Instagram AR filters in 2017, no one has been able to design their own until recently. Facebook has launched Spark AR Studio, an in-house AR filter application that allows creating your own Facebook and Instagram AR filters. Spark AR Studio Player is also available for Android devices on Google Play and for iPhones on Apple's App Store. The application allows users to preview how their AR filters will appear on a smartphone. If you flip your camera, the filter adds a hat to selfies or graffiti to the background.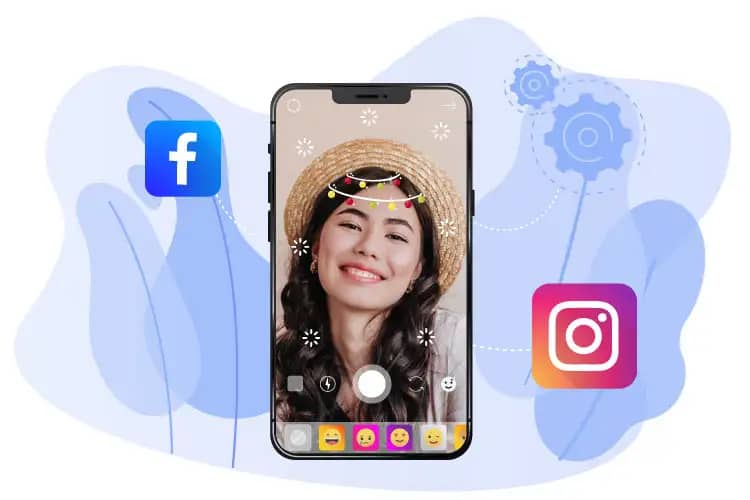 What is in Spark AR Studio?
Spark AR Studio was created to make the process easy that allow us to customize images and videos for both Facebook and Instagram. It also includes plenty of features. Here's an overview of each feature and what you can do with it:
1. Codeless Design
The concept of codeless design is not new because many mobile apps and design websites today employ drag-and-drop capabilities. The same concept applies to Spark AR Studio. Visual programming can be used to add interactive components, animate objects you design, and create logic depending on how your object should react to interactions. You can also use Spark AR Studio to generate custom textures and materials for your scene.
2. Import Objects and Sounds
Adding objects to your canvas is required to create your own Instagram AR Filter. You may use Spark AR Studio to upload your own sound files and 3D objects, which you can then alter to achieve the desired look, feel, and interactivity. Spark AR Studio is a free library of objects you can utilize if you're new to AR filter design. These are all high-fidelity models made possible by a collaboration between the social media giant and Sketchfab.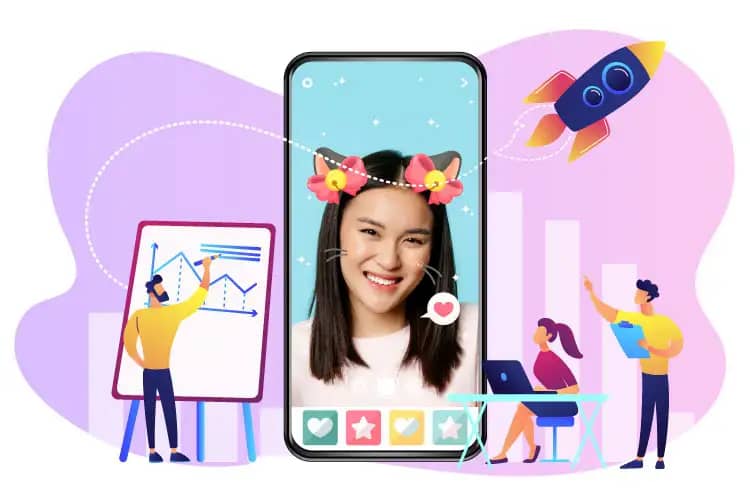 3. Publish Effects to Instagram
The ability to publish your AR filter directly to Instagram screams ease. Spark AR Hub assists you in submitting your AR filter for approval once it has been created and it may take days. Also, your AR filter to surface for use if it meets the various guidelines. Spark AR Hub also allows creators to manage and track the performance of their AR effects on Facebook and Instagram.
4. Create People Effects
Instagram AR filters enable you to apply effects to your filters that can be applied to people's faces, extending their utility. Users will have a more engaging experience as a result of this. Because Spark AR Studio allows you to apply logic to filters, you can make yours react to movements on a subject's face. The features include:-
Make a face
Spark AR Studio has significant design capabilities, including the ability to develop facial tracking filters for interactive and realistic effects.
Sync Effects With Movement
Apply sync and movement effects to your filters for even more imaginative user experiences. These are based on gestures made by your users.
5. Create World Effects
World effects allow you to combine various effects in a scene before applying them to any image or video. Scenes and objects can be overlaid to the surroundings and vehicles, creating an immersive augmented reality experience. Among the features are:-
Connect Effects With Objects and Places
Advanced plane tracking functionality in Spark AR Studio allows for the incorporation of various objects into scenes. The plane tracker can track surfaces, identify objects within a frame, and understand different locations.
Transport People to new Places
The ability to design entire backdrops that may be applied to images and videos is one of the most interesting features. These backdrops have a greater impact on content than other objects.
6. Educational Library
Spark AR Studio also includes a large collection of educational materials. They include tutorials for each of the above features, making it simple to get started developing your own Instagram AR filters. They also have FAQs that answer practically any question you would have regarding Spark AR Studio's features, functioning, and how to get the most out of it.
If you want to know more about Augmented reality filters, contact us now.